Power Supply Asus ROG-STRIX-650G
Intel Specification

ATX12V

Dimensions

16 x 15 x8.6 Centimeter

Efficiency

80Plus Gold

Protection Features

OPP/OVP/SCP/OCP/OTP

Hazardous Materials

ROHS

AC Input Range

100-240Vac

Thermal Features

ROG Thermal Solution

Fan Size

135mm

DC Output Voltage

+3.3V +5V +12V -12V +5Vsb

Maximum Load

20A 20A 54A 0.3A 3A

Total Output

650W

Connectors

MB 24/20-pin x 1
CPU 4+4-pin x 2
PCI-E 6+2-pin x 4
SATA x 8
Peripheral x 3

Package Contents

Power Cord x 1
Motherboard Power cable x 1 (610mm)
CPU Cable x 2 (1000mm)
PCI-E Cable x 2 (675mm)
SATA Cable x 2 (810mm/860mm)
Peripheral x 1 (450mm)
Join the ROG badge x 2
ROG logo magnet x 1
ROG label x 3
ROG Cable Tie x4
Cable Tie x8
Screws Package x1

*MB/ CPU/ PCI-E cables come with embedded capacitors in the middle.

Weight

Single PSU : 1.75 KG
Product Weight (with packing) : 3.08 KG

The ROG Strix 650W Gold PSU brings premium cooling performance to the mainstream.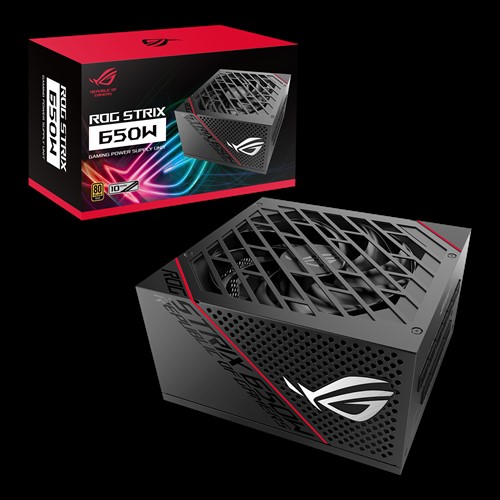 ROG heatsinks cover critical components. Lower temperatures result in longer life and reduced noise.
The axial technology fan design features a smaller fan shaft that facilitates longer blades and a barrier ring that increases downward air pressure.
Dual ball fan bearings can last up to twice as long as sleeve bearing designs.
0dB Technology lets you enjoy light gaming in relative silence.
An 80 Plus Gold Certification is the result of Japanese capacitors and other premium components.
Cosmetic customization is enabled by a magnetic logo and stickers that help you reskin the visible side to your liking.
ully modular cables keep your rig neat and tidy.
10-year warranty included.