Rapoo M550 Mouse Optical Silent Multi-mode Wireless
Mouse Accessorise
Sensor resolution (DPI) :
1300
Sensor technology:
Optical
Dimensions:
98 x 14 x 208 mm
Rapoo, M550, Slim Silent, Wireless Mouse, Switch Between, Bluetooth 3.0/4.0 & 2.4G, Easy connected 3 Devices, for Windows Laptop PC.
Switch between Bluetooth 3.0, 4.0 and 2.4G
The smart switch between Bluetooth 3.0, 4.0 and 2.4G ensures stable wireless transmission. You can still use your mouse regardless of USB port shortage or the loss of receiver.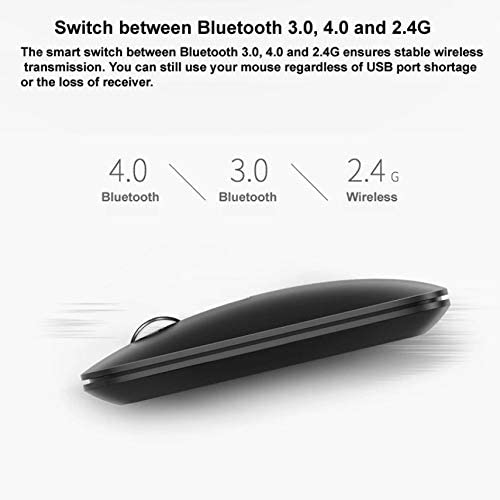 Smart switch between multiple devices
Automatically pairs the working device. It simultaneously connects to up to 3 devices, and easily switches between them. It simplifies complicated cross-platform maneuvers and meets multi-tasking requirements.
Precision on nearly every surface
The high-performance laser engine enables you to use mouse on virtually any surface. Enjoy a high-speed response and unrivaled accuracy.
Rapoo, M550, 1300 DPI high-definition tracking engine
You'll enjoy responsive and smooth cursor control with the 1300 DPI high-definition optical tracking engine.
Rapoo, Mouse 12-month battery life With Rapoo's latest energy saving

technology and power switch, you can use your mouse without power interruption for up to 12 months.
M550, Rapoo, Silent design
This is a wireless noiseless mouse, help you create a quiet working environment.